Skyexch is a fast-growing platform for sports that encompasses a wide range of sports fans across nations.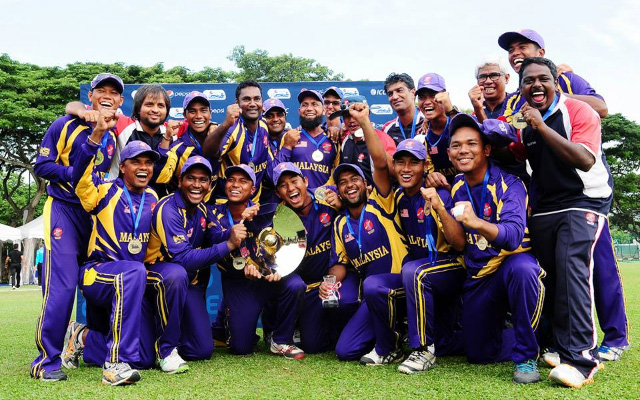 Malaysia cricket team (Photo Source: facebook/Malaysia Cricket Team)
Singapore will face Malaysia for a three-match T20I series from June 28, and SkyExch will be the presenting sponsor of the series. SkyExch, a fast-growing platform for sports, such as cricket, football, tennis, badminton, swimming, etc, encompasses a wide range of sports fans across nations. It has been actively sponsoring a few other cricket tournaments in Asia.
Malaysia, led by Ahmad Faiz and coached by Bilal Asad, lost to Nepal in a T20I match on April 2 by 85 runs in the Nepal T20 Tri-Nation Series 2021-22 at TU Cricket Ground. They lost to Papua New Guinea after failing to defend 196 on April 1 at the same venue. Malaysia ended the tri-series with one win in four matches, finishing at the bottom of the table. Malaysia are currently ranked 31st in Men's ICC T20I Rankings. Singapore, led by Amjad Mahboob and coached by Trevor Chappell, currently stands at 20th position in ICC Men's T20I Team Rankings. 
Malaysia finished third in Group B in the ICC T20 World Cup 2020 Qualifier Asia with three wins and two losses. Singapore finished second with five wins and no losses. Both the teams qualified for the 2020 ICC Men's T20 World Cup Qualifier Asia Final but failed to make it to the group stages of the World Cup in UAE, hosted by India.
For the T20 World Cup 2022, which will happen in Australia later in the year, Singapore will play the qualifiers in Zimbabwe from the pool Qualifier B.
Skyexch.net sponsoring other tournaments as well 
Skyexch.net, a portal, has been a title sponsor to cricket tournaments such as ACC Women's T20 Championship 2022, Malaysia Quadrangular T20I series 2022, Emirates D20 2022 and Lanka Premier League (LPL).
Skyexch.net also sponsored the United Arab Emirates (UAE) versus Hong Kong Women's T20I series, with FanCode broadcasting the events in India and via CricTracker's Facebook page and YouTube channel for the rest of the world.
Skyexch.net also worked with the AVR Pay Ajman T20 Cup, which took place in Abu Dhabi, UAE, earlier in the year. In the recently concluded series between Pakistan and West Indies in Multan, Skyexch.net  were the presenting sponsor.